| | | |
| --- | --- | --- |
| | Postcards of Soo Locomotives | |
SOO LINE RAILROAD'S LOCOMOTIVE NUMBER 5000
Caption: Soo Line's Northern Locomotive (4-8-4), Number 5000, as viewed at Chippewa Falls, Wisconsin in July of 1951.

Comment: I grew up on a Wisconsin farm less than ten miles from Chippewa Falls, and was eight years old in 1951. I should add that there is a very comprehensive article on the O-20 class locomotives in the Spring 1996 issue of "The Soo". These were the Soo Line's last and largest locomotives, built in late 1937 by Lima Locomotive Works of Lima, Ohio. There were only four locomotives in this series, numbered 5000-5003.
---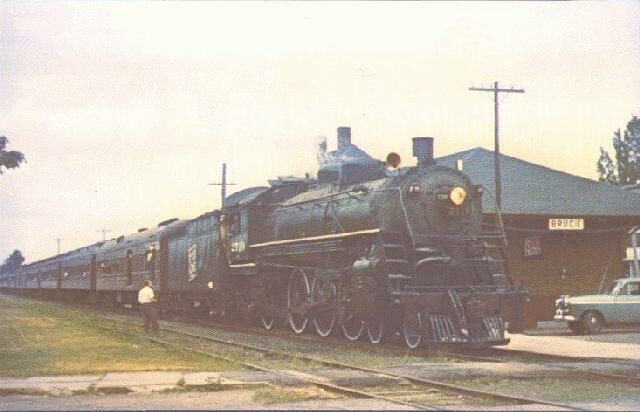 SOO LINE RAILROAD'S LOCOMOTIVE NUMBER 2719
Caption: Soo Line's Pacific Locomotive (4-6-2), Number 2719, as viewed at Bruce, Wisconsin on June 21, 1959. This ten car special Passenger Train was the last run for Locomotive Number 2719.

Comment: This locomotive resided in Carson Park, in Eau Claire, from 1960 until 1994, when the Locomotive & Tower Preservation Fund was established to restore her to operatiing condition. Today, she pulls excursion trains in the Chippewa Valley.
---
SOO 950
Caption: A really nice portrait of Soo Line 2-10-0 950. Ashland Wis. is the locale for this early 50's scene.

Comment: The 950 has been preserved and rests today under an outdoor cover. It's still in Ashland, Wisconsin. # 950 was the most powerful locomotive in the world when put in service by the Soo. It was purchased from Baldwin in 1900.
---
Photo of # 5000 was taken July 1951, credited to A. Robert Johnson.

Photo of # 2719 were taken June 21, 1959, credited to A. Robert Johnson.

Photo of # 950 was taken in the early 50's, from Carl H. Sturner Collection.

See my Steam Locomotive Roster for more information.
Pull it down, Pick a Destination, then "Go To It"!



Constructed, Maintained, and © by Ron Kohlin of Niceville, Florida, USA